How to hook up a Nintendo switch to a projector?
Nintendo Switch is a famous game console. It is the perfect combination of gameplay sets and home consoles, making it unique from the competition.
If you own one, you'd be looking for how to hook up Nintendo Switch to the projector? The good news is that you can get the job done with ease.
Thanks to its versatile and portability connectivity, this device will work well with a projector. Keep reading for more information!
How to Hook up Nintendo Switch to Projector?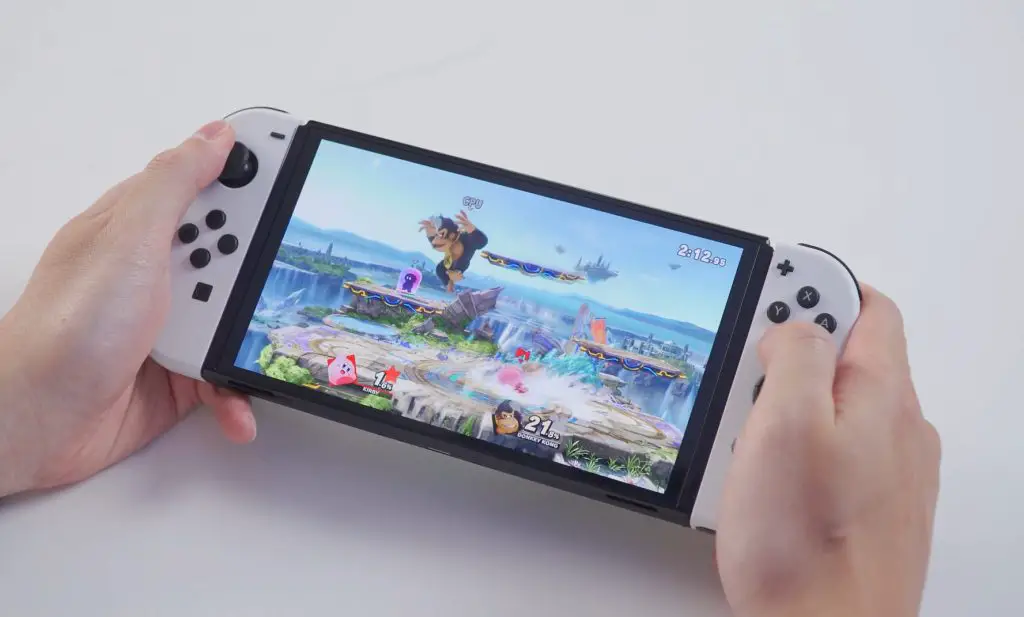 It will be a great experience to play games on a giant screen through a quality projector. You need these steps to connect your Nintendo Switch to a projector.
Attach AC Adapter And HDMI Cable to Nintendo Switch Dock
This Dock is a vital component as it comes with connectivity ports you use to connect your gaming projector to a Nintendo Switch.
Let's start by removing the Dock's back cover. After that, connect a wall adapter to the 1st port. 
Next, you will need to attach a part of the HDMI to the 3rd port on this Dock. 
For ceiling-mounted projectors, you should go with the longer HDMI cable.
If you don't have a Dock, it's essential to buy a new model or gain one of the aftermarket docks that are reasonably priced.
Connect Joy-Con Controllers with The Console
Connect the joy-con controller to your game console to pair them up. If you lack this pair, your console will not recognize these controllers.
It is alright to take apart the controllers after pairing them and attach them to the joy-con grip, which comes with the package.
Charge the joy-con controllers to give you a seamless gaming experience. If you want to remove these controllers, all you need to do is press a black button. You will find this button on this controller's backside.
Related: How to connect a Fire TV stick to a projector?
Insert The Console inside Your Dock
Now, it is time to mount your console inside this Dock to mirror the contents onto your projector.
You will need to place your console so that your USB-C port aligns with a USB-C connector in your Dock.
Once you finish mounting your consoles to this Dock, the console screen should switch off automatically.
Connect The Dock to Your Projector
Now, you'll need to hook up the Dock to your projector. To do that, you will need to attach your HDMI cable's another end with your projector's HDMI port.
If your projector has no HDMI ports, it is okay to utilize one HDMI adapter to create the proper connection. With the VGA port, it is possible to connect VGA male adapter to the HDMI female.
Enable Both Of Your Devices and Check out the Connection
Now, you will have to switch on the power into the Dock and your projector. After that, choose an HDMI source on your projector.
By pushing the Input "Source button," it will be easy to select the right input source by utilizing your projector's remote
After picking the right input source, viewing all contents on your Nintendo Switch console on your projector screen is possible.
FAQs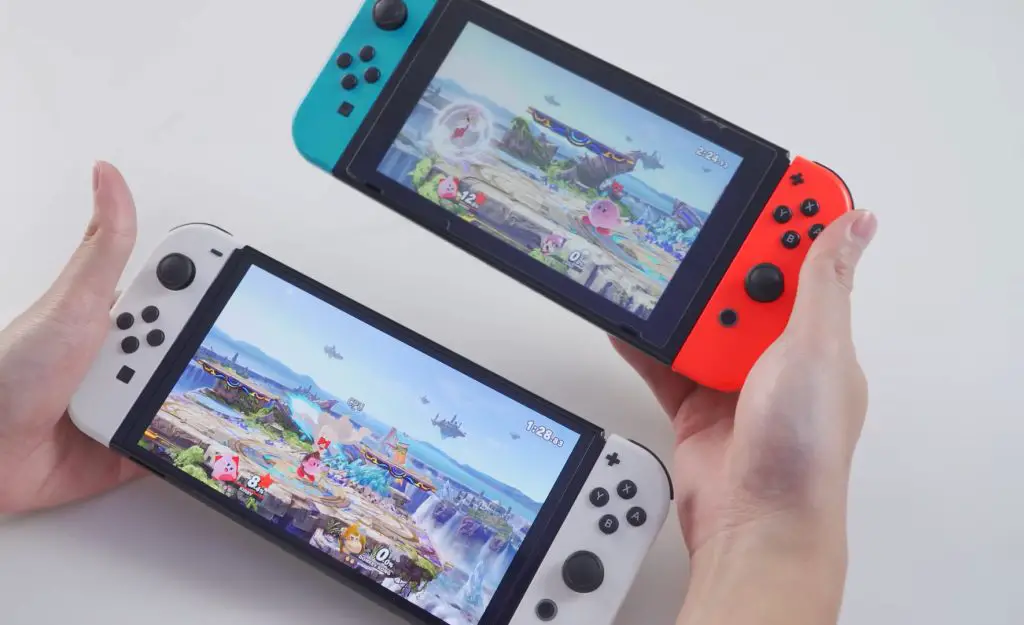 Why Are Nintendo Switch Consoles So Pricey?
Nintendo's business model is the main factor that makes Nintendo Switch consoles have remained so pricey over time. 
Many contributing factors include hardware updates, manufacturing,  franchise release strategy, distribution networks, etc.
What Are Common Connectivity Ports in Nintendo Switches?
Although Nintendo Switches have not been around for a long while, three models are available on the market. 
Furthermore, the ports with these three models have remained the same. Some connectivity ports on Nintendo Switches include:
USB port
Micro-SD Card slot
HDMI port
What Are Common Connectivity Ports in Projectors?
Projectors have been around for a long while. Hence, their ports, no doubt, have changed over the years. Some connectivity ports on projectors include:
USB port
HDMI port
SD Card slot
DVI-D
VGA port
Can I Play the Switch on My Projector?
It is possible to play your Nintendo Switch via any available display medium. It should all depend on the device's connectivity.
You can connect your game console to output devices, including your projector, through the proper ports.
Various projectors work well with Nintendo Switches. Hence, if you own one, the rest should be easy.
Nintendo Switch comes in three available models that are HDMI-compliant. As a result, connecting to projectors has never been easier.
If ports with both devices are not a perfect match, you don't need to worry. Using a suitable adapter will bridge the connectivity gap.
What Makes Nintendo Switches Familiar?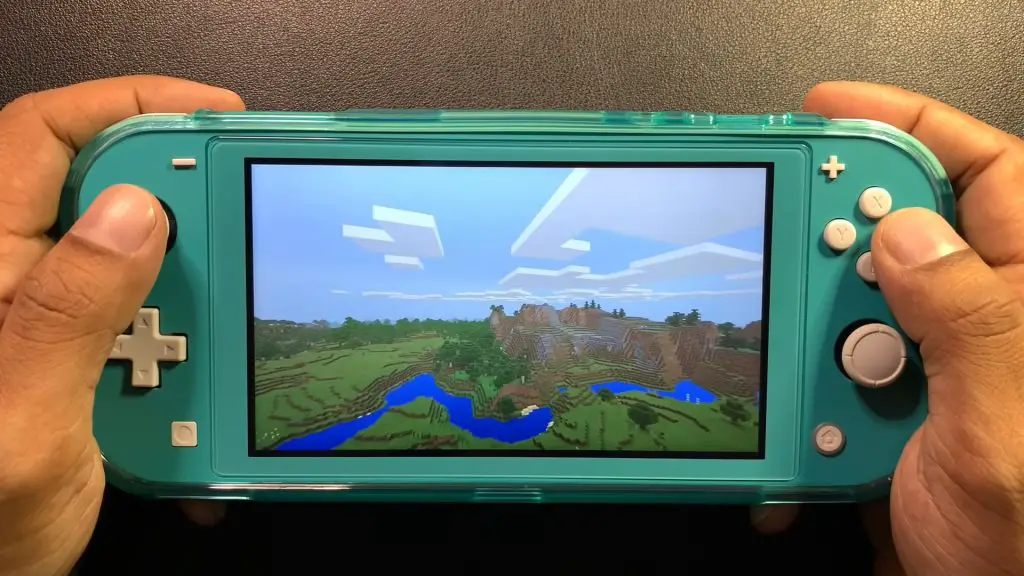 There are tons of games to play on the Switch. With titles like the Pokémon and Super Mario franchise, Nintendo has made a cast of iconic characters.
Can I Utilize a Projector With One Gaming System?
Projectors with HDMI connectors could connect with the PlayStation 2, 3, 4, or portable consoles. Connecting your projector to a PlayStation can significantly improve the gaming experience.
Can You Connect Nintendo Switch to the TV Wirelessly?
It is impossible to cast the Nintendo Switch screen to a TV wirelessly. But it is okay to utilize a wireless HDMI kit to send video/audio wirelessly to a TV.
Final Words
We hope that this article was helpful about how to hook up Nintendo Switch to the projector. As we can see, it hardly takes more than two minutes to make the connection and start instantly.
If you have any issues with this process, let us know in the comment section below. We will ensure to quickly answer your question to help you get begun playing Nintendo Switch games on a projector.
Thank you for reading! Please share this article if it was helpful to you.